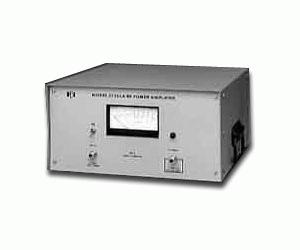 RF Amplifier 250kHz-150MHz, 100W
The ENI 3100LA is a Power Amplifier and most widely used as a RF amplifier in RFI/EMI testing and in production testing of RF equipment.
With its flat response over the frequency range of 250 kHz to 150 MHz and a linear power output of 100 W makes the 3100LA usable in a wide variety of industrial and general laboratory applications.
Power: 100 W
Gain (nominal): 55 dB+/- 1.5 dB
AC Power Line (50-60 Hz): 115 V AC +/- 8%
Power output meter: 0 - 100 V, 0 - 200 W
3rd order intermodulation intercept point (TOI): +59 dB
Noise figure: 10 dB max.
Connectors: Type: N
Dimension (WxHxD): 17 x 8.75 x 17 in.
Weight: 60 lb ( 27.3 kg)
€ 6,900 $8,694 (US)