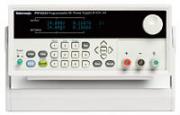 DC Power Supply 60V/2.5A/150W, w/ USB Interface. Manufacturer´s warranty until 28th April 2025.
The Tektronix PWS4602 is a DC Power Supply of the PWS4000 series.
PWS4000 series:
Key performance specifications:
Linear regulation
Up to 72 V output voltage
0.03% basic voltage accuracy
0.05% basic current accuracy
Less than 5 mVp-p ripple and noise
Available functions and features:
Output voltage, current, and limits displayed simultaneously on a bright display (vacuum fluorescent)
Up to 40 user-defined setup memories
Direct parameter entry using numeric keypad
Adjustable overvoltage protection
List mode for stepping through stored test sequences
Remote sense
Connectivity:
Rear outputs and trigger/status lines
USB device port (type B) connector /USBTMC compatible) on rear panel for quick PC connectivity and remote programming
GPIB (optional)
PWS4602:
DC output rates:
Voltage: 0 to 60 V
Current: 0 to 2.5 A
Max.Power: 150 W
Load regulation:
Voltage: < 0.01% + 2 mV
Current: < 0.05% + 0.5 mA typ.
Line regulation:
Voltage: < 0.01% + 2 mV
Current: < 0.005% + 0.05 mA typ.
Ripple and noise (20 Hz to 7 MHz):
Voltage: < 1 mV rms / 5 mV pp
Current: < 3 mA rms
Setting resolution:
Voltage: 1 mV
Current: 0.1 mA
Setting accuracy:
Voltage: +/- 0.03% + 6 mV
Current: +/- 0.05% + 1.5 mA
Memory: 40 setups
Power source:
110 V AC setting: 99 V rms to 132 V rms
220 V AC setting: 198V rms to 264 V rms
Frequency range: 50/60 Hz
Power consumption: 500 VA
Dimension (HxWxD):
4.15 x 9.52 x 15.12 inch (with boots and handle)
3.57 x 8.55 x 14.24 inch (without boots and handle)
Weight net: 7 kg / 15.3 lb
€ 615 (net) $738 (US)