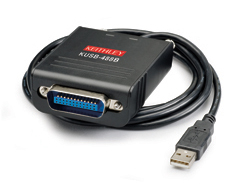 IEEE-488.2 USB-to-GPIB Interface Adapter for USB Port.
The Keithley KUSB is an USB to GPIB Interface Adapter and adds standard IEEE-488.2 bus control to any PC system. This high speed tool can control as many as 14 GPIB instruments or other devices over a distance of up to 20 meters.
KUSB-488B USB-to-GPIB interface turns any computer with a USB port into a fully functional GPIB controller. It is USB 2.0 compliant and has an IEEE data transfer rate upwards of 1.5 MB/s through the USB port. No external power is required.
The KUSB-488B has a built-in 2-meter USB cable.
PCI and USB bus versions
IEEE-488.2 compatible for fast data transfer
Windows XP/2000/Vista drivers included
LabVIEW and LabWindows/CVI support
Compatible with any standard GPIB instrument
€ 776 (net) $931 (US)