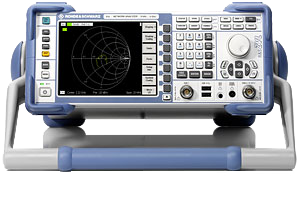 Vector Network Analyzer 9kHz - 3GHz, 2Port, Opt.: FSL-B5 = Adds Interfaces: Video/IF-Output, Power Meter 28V -DC for Noise Source; FSL-B7 = Narrow Resolution Filters 10Hz-300Hz; ZVL-K1 = Spectrum Analysis Function; ZVL-K2 = Distance to Fault Measurement; ZVL-K3 = Time Domain Analysis;
The R&S ZVL3 network analyzer is a new addition to the extended family of R&S Vector Network Analyzers.
It addresses the lower price segment with a lightweight and compact design
that covers applications in the middle and low-end. Especially interesting is the combination of ZVL3 with the spectrum analysis option as well as the DC/battery option.
The spectrum analyzer option offers similar specifications and same features as the FSL. ZVL3 is available with network and spectrum analysis functions.
Bidirectional test-set
Dynamic range: >115 dB (> 123 dB typ)
Spectrum analysis as option
Portable: 15.4 lbs, 14.57 inches depth
Color display and sunlight mode for enhanced visibility
DC/Battery power option
Improved trace noise characteristics
LAN interface 10/100 BaseT
IEC/IEEE bus (GPIB) interface (option FSL-B10) LXI Class C conformant
Standard functions:
Measurement of S-parameters, impedance, admittance and stability
Measurement output as Smith chart, inverted Smith chart, magnitude and phase, polar diagram, real / imaginary, group delay, VSWR
Very high number of traces and channels, overlay display of traces and different channels in a single diagram
Evaluation of traces within up to 10 ranges: max, min, rms, mean, std deviation, electrical length, phase delay
Evaluation of band pass filters in terms of center frequency, bandwidth, quality factor, attenuation
Specified frequency range: 9 kHz to 3 GHz
Frequency overrange (unspecified): 5 kHz to 3 GHz
Frequency resolution: 1 Hz
Number of measurement points: 201 (default value), 2 to 4001 (user-selectable)
Measurement bandwidths 1/2/5 steps: 10 Hz to 500 kHz
Dynamic range:
9 kHz to 1 MHz: > 75 dB, typ. 85 dB
1 MHz to 7 MHz: > 85 db, typ. 100 dB
7 MHz to 20 MHz: > 105 dB, typ. 120 dB
20 MHz to 3 GHz: > 115 dB, typ. 123 dB
Measurement speed:
Measure time: 200 MHz span, 201 measurement points and display switched on With normal calibration:
100 kHz measurement bandwidth: < 50 ms
10 kHz Measurement bandwidth: < 70 ms
With full two-port calibration:
100 kHz measurement bandwidth: < 60 ms
10 kHz Measurement bandwidth: < 90 ms
Data transfer time for 201 measurement points:
Via VX11 over 100 Mbit/s LAN: < 2.1 ms
Via RSIB over 100 Mbit/s LAN: < 1.5 ms
Via optional R&S FSL-B10 GPIB interface: < 4.7 ms
Measurement accuracy at measurement bandwidth 10 Hz /10 dB step attenuation and nominal source power of 0 dBm:
Accuracy of transmission measurements:
9 kHz to 50 MHz for 0dB to -40 dB: < 0.2 dB or < 2 °
50 MHz to 3 GHz for 0 dB to -50 dB: < 0.2 dB or < 2°
50 MHz to 3 GHz for -50 dB to -70 dB: < 0.3 dB or < 3°
Accuracy of reflection measurements:
For 0 dB to -15 dB: < 0.4 dB or < 3°
For -15 dB to -25 dB: < 1 dB or < 6°
For -25 dB to -35 dB < 3 dB or < 20°
Trace stability:
Trace noise (RMS) above 10 MHz at -10 dBm soure power, 0 dB transmission,
0 dB step attenuation, and 2 kHz measurement bandwidth (filter type: normal):
< 0.005 dB
Testport 1 and 2:
Impedance: 50 ohm
Connector: N, female
Output:
Source match: typ. > 14 dB
Power range: - 50 dBm to 0 dBm, typ. -60 dBm to +10 dBm
Power accuracy: at -10 dBm source power above 10 MHz: < 2 dB,
in temperature range +18 °C to 28 °C: < 1dB, typ. 0.3 dB
Harmonics at -10 dB source power: typ. -35 dBc
Spurious at -10 dB source power: typ. -40 dBc
Input:
Load match: typ. > 14 dB
Attenuation: 5 dB user-selectable
Attenuation steps: 5 dB
Attenuation uncertainty: < 0.3 dB
Max. nominal input level:
With attenuation set to 0 dB: -10 dBm
With attenuation set to 30 dB: +20 dBm
€ 14.750 (net) $18.585 (US)