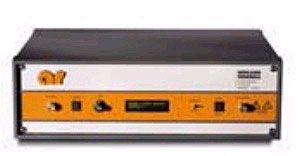 Broadband Amplifier 700MHz - 4.2GHz, 80Watt, M1 = Type N female, rear panel
The Model 80S1G4 is a solid state, self-contained, air-cooled, broadband amplifier designed for applications where instantaneous bandwidth, high gain and linearity are required.
Frequency response: 0.7 - 4.2 GHz
Rated power output: 80 W
Gain (at max. setting): 49 dB min.
Gain adjustment:
Continuous range: 10 dB min
(4096 steps remote)
Input impedance: 50 ohms, VSWR 2.0:1 max.
Output impedance; 50 ohms, nominal
Modulation capability: will faithfully reproduce AM, FM, or pulse Modulation appearing on the input Signal
Third order intecept: 58 dBm typ.
Noise figure: 10 dB typ.
Harmonic distortion: - 20 dBc max. at 80 W
Spurious: - 73 dBc typ.
Phase linearity: 1.0 deg/100 MHz, typ.
Primary power (selected automatically) : 90-132, 180-264 VAC
50/60 Hz, single phase
448 W max.
Connectors:
RF: Type N female
Remote Interfaces:
IEEE-488 (24 pin)
RS-232 (9 pin Subminiature D)
RS-232 (fiber optic) (Type ST)
USB 2.0 (Type B)
Ethernet (RJ-45)
Dimension: 50,3 x 20,3 x 54,6 cm (19.8 x 8 x 21.5 in.)
Weight: 28,4 kg (62.5 lbs)
€ 19.500 (net) $23.400 (US)