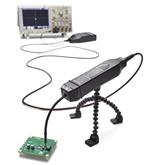 Isolated Measurement System / IsoVu 800MHz High Voltage Probe with 3m Cable.
Isolated Measurement System with up to 800MHz bandwdith. The 800 MHz bandwidth is achieved with the 50X and greater attenuation tips (MMCX50X, MMCX250X, SQPIN100X, SQPIN500X, WSQPIN1000X, or WSQPIN2500X).
Tektronix TIVM and TIVH Series IsoVu™ Measurement System offers galvanically isolated measurement solutions for accurately resolving high bandwidth, differential signals up to +/-2500 V in the presence of large common mode voltages with the best in class common mode rejection performance across its bandwidth.
TIVH08:
Bandwidth: 800 MHz
Rise time: <= 435 ps
Fiber Cable length: 3m (9.8 ft)
TIVM and TIVH Series:
Bandwidths from DC to 1 GHz
100 Million to 1 (160 dB) Common Mode Rejection from DC up to 1 MHz
10,000 to 1 (80 dB) Common Mode Rejection at 1 GHz
60 kV peak Common Mode Voltage
Up to +/-2500 V Differential (DC + pk AC)
Up to +/-2500 V offset range
Output clamping
Safety certified
DC and AC input coupling
€ 19.900 (net) $23.880 (US)