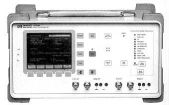 Telecom Analyzer
The 37722A telecom analyzer offers installation and maintainance teams in-service and out-of-service BER and signal measurements on CEPT digital circuits - in a portable, rugged package.
For installation and troubleshooting, the analyzer has framed/unframed pattern generation and measurements at 2 Mb/s (standard and CRC-4) and n x 64 kb/s testing. Options add framed/unframed 704 kb/s and 8 Mb/s, n x 64 kb/s timeslot access, sub-64 kb/s testing, slips/wander, tone generation and measurement, M.2110 and M.2120 measurements.
For installation and maintenance of CEPT-compatible datacom circuits and services, adding the 15901A Option 001 datacom module, upgrades the 37722A to the 37732A telecom/datacom analyzer.
The Datacom module gives you error performance testing at four telecom interfaces and V.24, V.35, V.11/X.21-leased datacom interfaces at rates up to 2 Mb/s. It also provides a full range of BER/BLER measurements; control-circuit timing analysis; a built-in V.24 breakout box; and an internal synthesizer.
€ 4.250 (net) $5.100 (US)