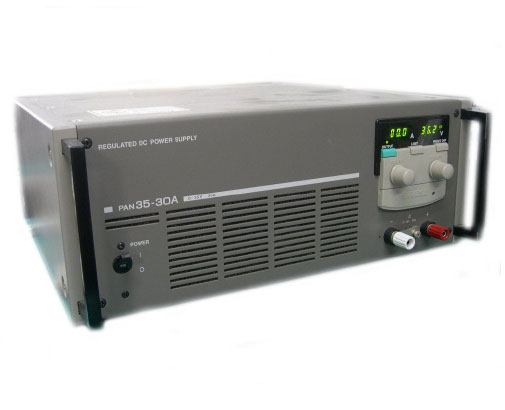 DC Power Supply 0-35V / 0-30A
The Kikusui PAN35-30 A is DC Power Supply of the PAN-A Series.
The PAN-A Series is a high-performance, highly reliable DC power supply unit featuring regulated variable voltage. These units are suitable for use in a range of fields including research and development, quality control, and production.
Performance characteristics:
Form Factor: Benchtop
Number of Outputs: 1
Max. power: 1050 W
Output current max.: 30 A (0 V to 35 V)
Voltage ripple and noise: 0.5 mV
Current ripple and noise: 5 mA
Load regulation, voltage: 1 mV
Load regulation, current: 5 mA
Line regulation, voltage: 1 mV
Line regulation, current: 3 mA
Remote sensing measurement
Multiple unit combinations: parallel, series
Overvoltage protection
Overcurrent protection
Over-temperature protection
Programmability/Connectivity:
User interface proprietary
Ports to peripheral devices option
Compliance:
CE Compliance: not on file
UL Compliance: not compliant
Power requirements:
Input power universal (auto sense and switch)
Dimensions WxHxD: (N/A) x 175 (6.88 in) x 505 mm (19.88 in)
Weight: 36 kg (79.36 lb)
€ 1.900 (net) $2.280 (US)