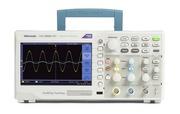 Digital Storage Oscilloscope 200MHz 2GS/s, 2 Channel. USB Interface / TFT Colour Display.
The Digital Storage Oscilloscopes of he TBS1000-EDU Series are especially designed for the requirements of modern schools and universities.
The first oscilloscope with integrated courseware and a web-based courseware resource center to help professors and students get more out of their lab exercises. Students can access courseware content directly from the oscilloscope; printed lab manuals are no longer required.
TBS1202B-EDU:
Bandwidth: 200 MHz
Number of channels: 2
Sample rate: up to 2 GS/s on all channels
Record length: 2,5k points on all channels
Advanced triggers including pulse and line-selectable video triggers
34 automated measurements
Dual window FFT, simultaneously monitors both the time and frequency domains
Built-in waveform limit and trend plot testing
Dual channel frequency counter
Zoom function
Automated, extended data logging feature
Autoset and auto-ranging functions
Built-in context-sensitive help
Multiple-language user interface
7 in. WVGA (800X480) active TFT color Display
Small footprint and lightweight - only 4.9 in. (124 mm) deep and 4.4 lb. (2 kg)
USB 2.0 host port on the front panel for quick and easy data storage
USB 2.0 device port on rear panel for easy connection to a PC
GPIB interface (optional)
€ 660 (net) $832 (US)