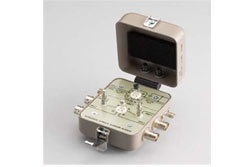 PIV Demo Fixture
The Keithley 8101-PIV is a DC and Pulse I-V Demo Fixture.
It is a metal case with four female triax connectors, two SMA connectors, and a latch. Inside the test fixture are two 4-pin device holders (transistor sockets) and two plungers for parts with two leads.
8101-PIV is for use with 4200-SCS, series 2600B, 6482, any 40 V triaxial or SMA instrument.
€ 835 (net) $1,052 (US)