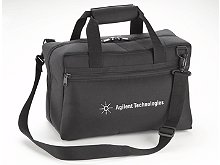 Soft Carrying Case for DSO5000 Series Oscilloscopes
The N2760A is a Soft Carrying Case and is the perfect accessory for storing and carrying your DSO5000 Series oscilloscope.
The case is designed for convenience, all of your probes, manuals, and connectors can be stored with your oscilloscope. The ergonomic design makes it easy to take it all with you. The padded sides and bottom of the case provide some measure of protection for the scope.
Front zippered pouch for manuals
Probe pouch that can be attached to the outside of the case or tucked inside under the scope's handle
Padded carrying handle
Ergonomically-placed shoulder strap rings
Sturdy design
Padded sides and bottom
Double-reinforced seams
Stays upright when empty for easier packing
€ 155 (net) $186 (US)